In this guide, you will find out how much SEO costs for a small business, what factors affect SEO pricing, and what are the most common types of pricing models that companies use to charge clients.
After reading our guide all your doubts regarding how much money you need to invest in SEO as a small business owner are going to get clear.
Average SEO costs as per SEO Experts
But before we jump to the conclusion it's important to know what is the average SEO cost in the international market and in the Indian market.
As per the Search Engine Land's survey, in US average monthly SEO costs for small businesses are:
Minimum

– $500-$2500/month

Maximum

– $2500-$10,000/month
In India average monthly SEO costs for small businesses are:
Minimum – ₹5000-₹20,000/month
Maximum – ₹20,000-₹50,000/month
So by this, you come to know what is the average price in India and the international SEO market.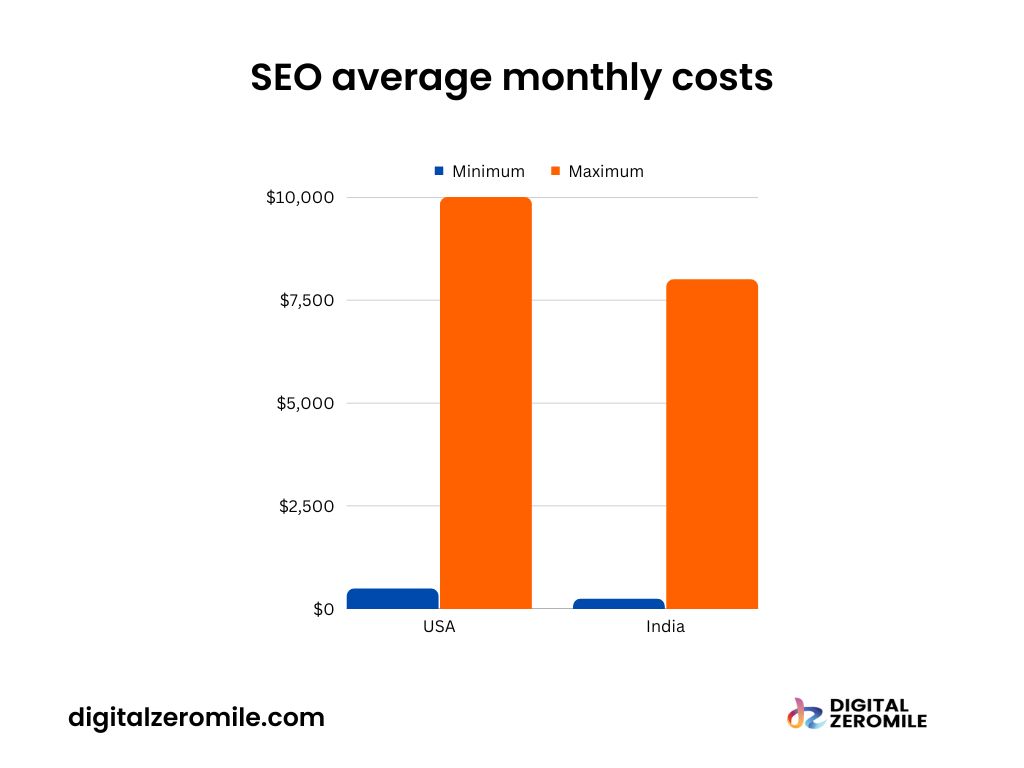 Common SEO pricing models for small businesses
Now it's important to know what type of SEO pricing model companies use and what makes them different from one another.
There are mainly four types of standard SEO pricing models that are used by the majority of companies all over the world. Let's explore one by one
1. Hourly-based pricing model
As the name suggests company charges a certain amount of money on an hourly basis. Basically, they are SEO consultancy firms or individual SEO consultants that will guide and create all the necessary plans regarding SEO for your small business & they charge money for their services (in $100-$500/hour and In INR ₹3000-₹10,000/hour)
2. Project-based pricing model
In this price model, SEO companies charge based on the duration of the project like improving the backlink quality of your target page or doing a PR campaign for your business, and many more. So in a nutshell, this type of pricing model is more focused on achieving one specific SEO goal for your business/website.
SEO agencies charge between the range of $2500-$25,000 and INR ₹25000-₹75000 (pricing always depends on the  goals you need to achieve and how much time & effort are needed).
3. Monthly-based pricing model
It is like a monthly subscription model – like paying for other software or OTT platforms. Here company charges money monthly for your ongoing SEO work and it is the most common pricing model used by companies around the world. Their main focus is to retain their clients monthly.
Pricing varies as per the work needed to be done, in this pricing model but on average company charges (in USD) a
minimum – of $500-$2500/month
maximum – of $2500-$10,000/month  &
in INR a minimum– of ₹3000-₹10,000/month and a
maximum– ₹15,000-₹50,000/month
4. Contract-based pricing model
As the name suggests you need to sign a contract with a company for the SEO service for your small business. This pricing model companies choose when they are not sure about whether your business needs a monthly SEO service or not.
The contract pricing model has the end date of the service, and the pricing varies from business to business.
Factors affecting the SEO cost for small business
I know you're very much excited to know what are the factors impact SEO pricing, after all, money matters and you don't want to waste your money when you are not getting any results.
So here are the lists of factors that impact SEO pricing for your small business. Let's explore them one by one.
Competitions play a vital role in SEO pricing for a small business. Suppose your product or service is very competitive in the market. In that case, it needs time and effort to outrank your competitors.
For example – If you are a lawyer and own a small law firm and want to rank for a Law firm in India, SEMrush(SEO tool) shows that a Law firm in India has a search volume of 2.4k and 50% difficult. If you want to rank on this keyword in Google's top 10 results, you need high-quality content, a well-optimized website, high-quality backlinks & many more.
So, competitions play an essential role in the pricing of SEO services.
Let's take a Law firm in India example again & as per our detailed analysis and keyword research, we can say that we need to put lots of sweat and tears into ranking this keyword.
What do we need to create to outrank your competitor's website?
High-quality web copies

High converting web design

Blogging strategy

Publishing high-quality content 

High authority backlinks 
All the points mentioned above show that you need a highly skilled workforce and a reasonable SEO budget.
Business type plays a vital role in SEO pricing for your small business, but wait; we are not talking about the niche of your business, like B2C or B2B. We are talking about how you want to grow your business online like, at the National level, Local level, or International level; on that basis, SEO companies charge pricing from you.
Here is the list of SEO services that most companies worldwide provide.
Local SEO

National SEO

International SEO
Duration and time depend upon the goal and SEO service you opt for. For example, suppose you select a Local SEO service. In that case, it takes effort and time, but it will be less than National SEO and international SEO service.
Remember, the more time and effort an SEO agency gives to your project, and you need to pay more money. 
How do we do SEO for our clients?
Understanding your goal
Competitor Analysis
Keyword Research
Building Strategy
Executing the strategy
Linkbuilding 
Reporting 
Summary- how much does an SEO cost for a small business
I hope you found this small guide helpful.
As you have learned about how much SEO costs for a small business owner and what factors affect SEO pricing for your small business, it doesn't matter what type of small business you own, SEO can help you grow your customer base and help you to grow your business.
Who are we?
We are a leading Local SEO company in Pune and SEO Agency in India. We have worked with all types of clients and helped them to grow their businesses online with the help of our Local SEO service. Contact Us today and outrank your competitors.